News
Please review the updated health and safety plan.
November 20, 2020Dear NTCC Students and Families: In an effort to support the COVID-19 mitigation efforts of the sending districts, communities, and counties served by the Northern Tier Career...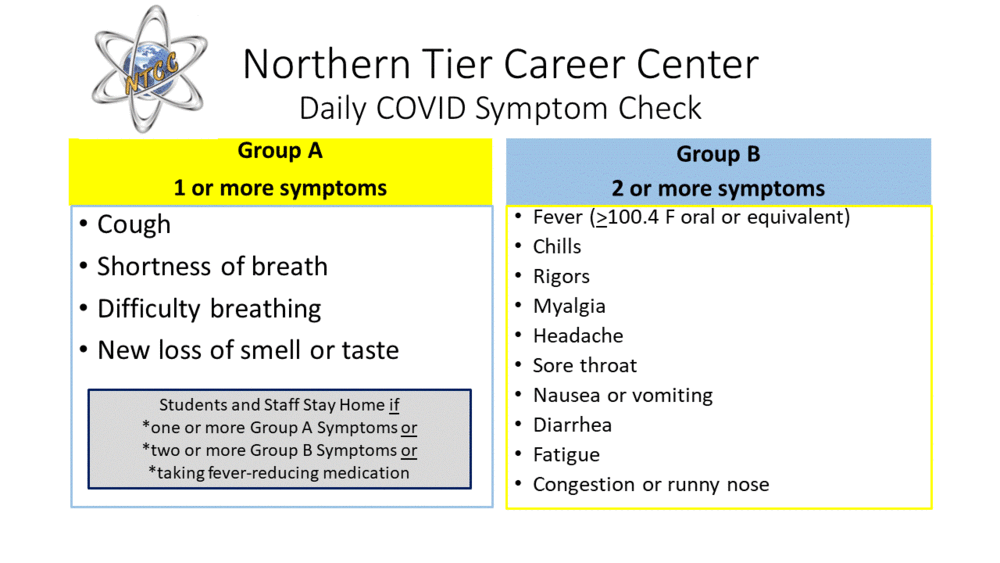 Students and staff of the Northern Tier Career Center are encouraged to conduct daily symptom check prior to reporting to the Center.
SEE ALL NEWS
LIVE FEED

NTCC
7 days ago
Reminder to Northern Tier Career Center students and families: There will be no classes at NTCC from Wednesday, November 25th throu ...

NTCC
12 days ago
NTCC November 19, 2020, Virtual Board Meeting link for 6:30 PM
https://us02web.zoom.us/j/81095369917?pwd=elZGSXN6UVVuTUJ1OUx6WU9LW ...
Practical Nursing
22 days ago
NOTICE OF VACANCY
Practical Nursing Program
Northern Tier Career Center
Part-Time/Per Diem Clinical Nursing Instructor
Beginn ...
SEE ALL posts