Rebecca Bellows
The Northern Tier Career Center offers two Cooperative Education options for seniors who would like to receive school credit for work experience.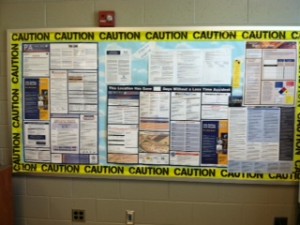 CAPSTONE COOPERATIVE EDUCATION
This program is open to seniors who are enrolled in a Northern Tier Career Center program (Diesel, Health Assistant, etc.) and have obtained employment in a program related job (mechanic, CNA). The student receives career- related theory and hands-on instruction in the school and on-the-job training through part-time paid employment in business/industry. Students may be placed on Capstone Cooperative Education anytime during their senior year. Studenst must document at least 12.5 hours per week of paid employment while participating in the Capstone Cooperative Education program.
Employers include health care facilities, building contractors, heavy equipment dealers, and automotive repair shops.
Related occupations, the nature of work, training and advancement, job outlook, and earnings vary by career objectives.
ENROLLMENT REQUIREMENTS FOR COOPERATIVE EDUCATION:
Must be a senior on-track to graduate in the year enrolled
For Diversified Occupations – Student must have maintained at least a "C" average and had no more than 10 absences in the school year preceding participation in Diversified Occupations. Students not meeting grade or attendance requirements can enroll on a probationary basis upon written recommendation from the sending school principal and/or guidance counselor.

For Capstone Cooperative Education – Student must have NTCC program instructor's recommendation

Must have reliable transportation

If under 18, must obtain Pennsylvania work permit from high school

Before being allowed on the work site, student and parent/guardian must fill out, sign, and return all required paperwork to the Northern Tier Career Center, i.e. emergency packet, driving permit, Cooperative Education attendance policy, training agreement, and training plan.

Job site must be approved by the program coordinator, based on adherence to Child Labor and Wage and Hour Laws.
Suggested academic & CTE per POS/SOAR
Students interested in this program are encouraged to take academically rigorous coursework. Course suggestions include the following: at least four College Preparatory English courses; Algebra I, Algebra II, Geometry; Biology, Chemistry, Physics, Anatomy/Physiology; at least three College Preparatory Social Studies courses; and at least one computer technology course beyond basic keyboarding.
Capstone Cooperative Education – 2.5 hours each week with the NTCC Cooperative Education Coordinator and program instructor
Topics include:
Career Development and Planning

Employment Acquisition

Human Relations and Employment Retention

Career Specific Health and Safety Instruction

Technology in the Workplace

Financial Planning

Career Specific Technical Instruction
INDUSTRY CERTIFICATIONS AVAILABLE THROUGH PROGRAM
OSHA 10 Hour General Industry course (Diversified Occupations), Pennsylvania Skills Certificate (Diversified Occupations and Capstone Cooperative Education)
Information can be obtained from the Bureau of Labor Statistics, www.bls.gov