EDIT MAIN
Practical Nursing
---
Program Description
Practical Nursing is a rapidly expanding field of technical nursing within the nursing profession. There are many employment opportunities for practical nurses in Bradford County, Pennsylvania, and throughout the country. Licensed Practical Nurses may be employed in physicians' and dentists' offices, hospitals, nursing homes, clinics, home health, and as private duty nurses.
---
The Practical Nursing Program is a post-secondary education extension of the Northern Tier Career Center. The program is approved by the Pennsylvania State Board of Nursing and accredited by the Accreditation Commission for Education in Nursing (ACEN)
3343 Peachtree Road, Suite 850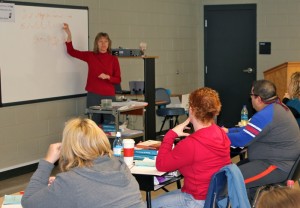 Atlanta, GA 30326
404-975-5000
www.acenursing.org
Graduates meet the educational requirements to sit for the Licensure Examination for Practical Nursing.
The program is given in one calendar year. It is no more than 225 days long, divided into three semesters of instruction totaling 1575 hours. Clinical experience is given concurrently with classroom work and will give the student an opportunity to work at several area hospitals, extended care facilities, and other local health care agencies.
---
Nature of Work
Licensed Practical Nurses, LPNs, are a vital part of the health care system. They perform duties that may include giving injections, taking vital signs, performing basic diagnostic tests, observing patients, dressing wounds, and administering medication. They also assist patients in daily living activities such as eating, dressing, exercising, and bathing. LPNs usually work under the supervision of registered nurses, physicians, and/or dentists. Additional training is available to allow LPNs to care for patients in specialized areas such as pediatrics, surgery/recovery, obstetrics, and psychiatry. Licensed practical nurses are often responsible for observing patients, recording their reactions to medications and treatments, and reporting the results to the registered nurse or physician in charge. Individuals interested in becoming a licensed practical nurse should be intelligent, tactful, and caring, and possess sound judgment. These skills, along with good health and physical stamina, are very important in this line of work. LPNs should also have a sincere interest in people and be able to maintain good interpersonal relationships with them.
---
Job Placement Rate
Over the past five years the Practical Nursing Program at Northern Tier Career Center has had 80-94% of their graduates find employment as an LPN. Some students have continued their education in an RN program. According to the Occupational Outlook Handbook, there is an expected growth of 12% employment from 2016-2026 for this area of nursing; faster than average for all occupations.
Earnings
The average salary, one year after graduation from the program, is $17.34/hour. The salary ranges from $12.90 to $25.00/hr, depending on the place of employment.
---
---
Curriculum
Semester I – 16 weeks
FUNDAMENTALS OF NURSING
LIFE SCIENCE
NURSING CONCEPTS
Semester II – 16 weeks
MEDICAL SURGICAL NURSING I
INTRODUCTION TO PHARMACOLOGY
IV THERAPY SKILLS
Semester III – 16 weeks
MEDICAL SURGICAL NURSING II
NURSING EXTENSIONS
---
Industry Certification upon Completion of the Program
Graduates meet the educational requirements to sit for the Licensure Examination for Practical Nursing.